Date Planner: Mini Golf & Cute Couple Photos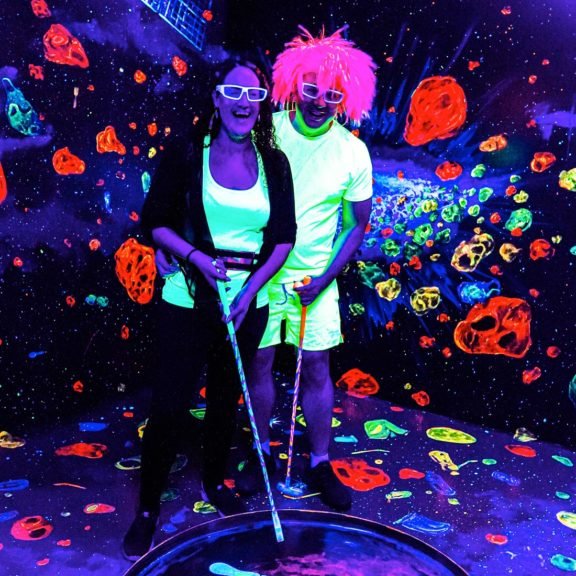 The best dates often are shared experiences where you can both look a bit silly and vulnerable… mixed in with friendly competition!
Glowing Rooms Australia is one of our go-to's for fun, casual date nights and, besides, mini-golf... the colourful murals on the walls are a great backdrop for cute couple photos to capture the moment.

If this vibes with you... scroll down to find our date night planner that will have you exploring in and around Freo on an adventure!
If we've missed anything or you have a date night suggestion, please share in the comments below. 
In and around Fremantle, Hamilton Hill.
Need a babysitter? Try Kin Sitters.
Kin Sitters is developed by local West Australian parents and it's like Uber for babysitting.
Connect with local babysitters in your area and read community reviews to find the right babysitter for your needs.
Dinner? Hope you like Italian.
Ruocco's Pizzeria & Ristorante is a Freo institution.
My godparents, being Sicilian, brought my family here when I was young.
Fun fact, it's the first pizzeria in Perth to offer wood-fired pizzas... if it isn't then it still doesn't take the spot in my heart for being the best pizza from my childhood.
217 South Terrace, South Fremantle WA 6162
Monday 
CLOSED
Tuesday, Wednesday, Thursday
4:00 PM - 9:00 PM
Friday, Saturday
12:00 PM - 9:30 PM
Sunday 
12:00 PM - 9:00 PM
Book a table @ Ruocco's Pizzeria & Ristorante
Mini golf @ Glowing Rooms
1 Emplacement Cres, Hamilton Hill WA 6163
Monday - CLOSED
Tues to Thursday 2pm - 9pm
Friday 2pm - 10pm
Saturday 10am - 10pm
Sunday 10am - 9pm
School Holidays
Open from 10am weekdays incl Monday
Most Public Holidays 10am - 6pm
Percy Flint is a cool, quaint local spot in Freo.
Round off the night by snuggling up in one of their cosy booth to cocktails and wine.
211 South Terrace, South Fremantle, WA 6162
CLOSED
Tuesday, Wednesday, Thursday:
Friday, Saturday, Sunday
12:00 PM - 12:00 AM
For more date night ideas, push the red button.
Subscribe
Subscribe to our Newsletter and stay up to date!